An ongoing
study of
libation &
guilty pleasures.
Book a table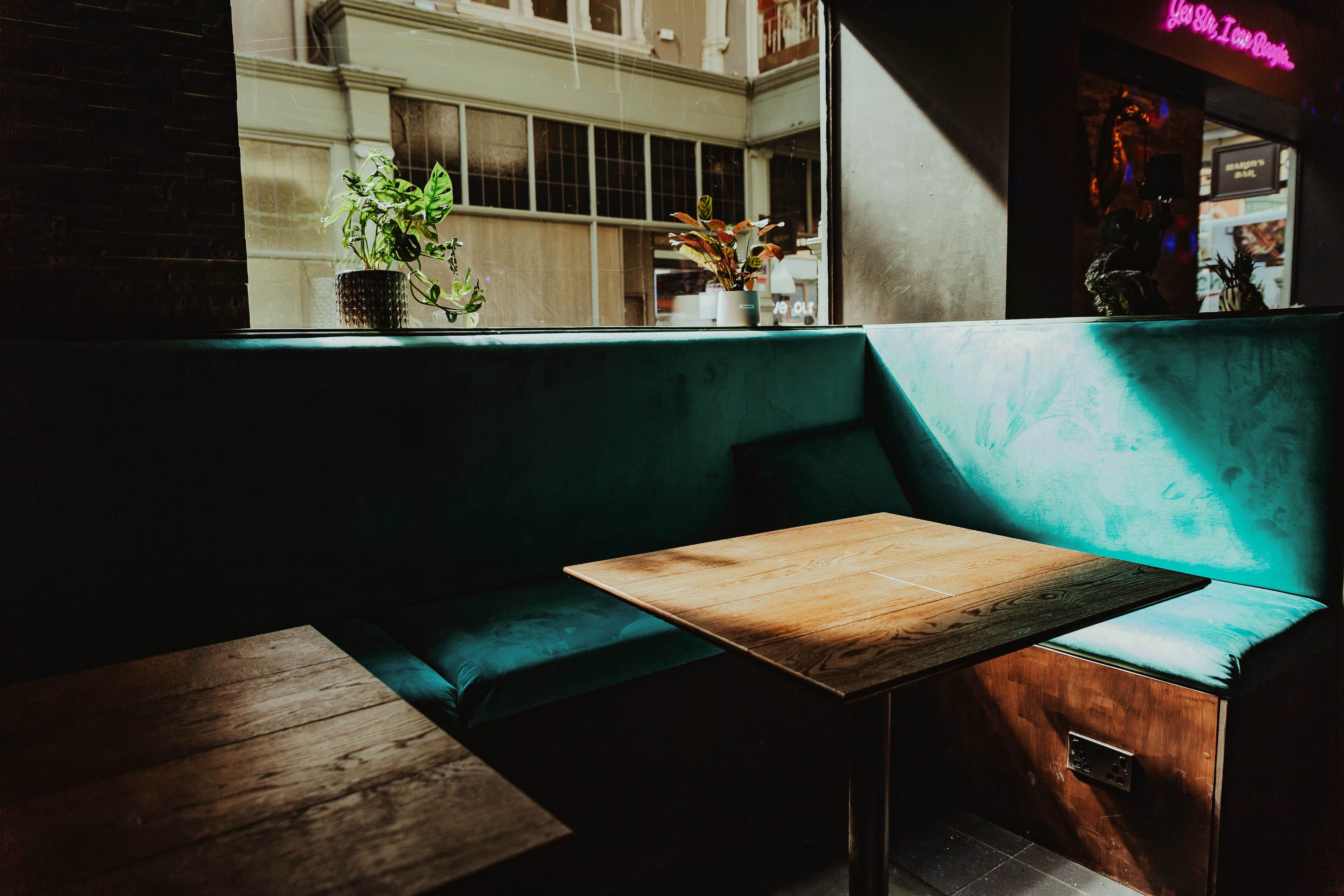 All our drinks are prepared in a bar where nuts, drinks containing gluten and other allergens are present and our drinks menu descriptions do not include all ingredients. If you have an allergy or intolerance, please let us know before ordering. Full allergen information for our menu is available upon request.
Cocktails
Elixirs for day or night, our cocktails are crafted with a dreamlike innovision and originality
Signature
Bon Bon Sour

Pink bliss with a bite. Bon Bon infused vodka, blood tonic, lemon juice. Seductive sweetness combined with nettle and rosehip.

Ruby Revival

Bittersweet citrus brought to life with bergamot. Grapefruit & Rhubarb gin, Pampelle, Italicus, grapefruit bitters.

Parma Violet Martini

A nostalgic trip to violet heaven. Parma Violet gin, lavender gomme, lemon juice.

Don't be a Pr*ck

Cactus coloured concoction with melon and coconut. Coconut tequila, midori, lime, ting top. Sure to spike your mood.

Dream Soda

Rhubarb and custard meets cream soda. Rhubarb gin, Banana rum, vanilla gomme, half and half, soda top.

Sloely Does it

Berrylicious. Sloe gin, blackberry liqueur, lemon, Blueberry gomme, Soda top.
Classics, Psilo style
Mojito (coconut, berry, or elderflower)

Get muddled. Rum, mint, flavoured gomme, lime, soda top.

Chocolate Orange Espresso Martini

Day or night, this'll hit the spot. Dowsed in Vodka, Coffee liqueur, chocolate liqueur, Terry's chocolate orange syrup, and fresh espresso.

Chile Marg

Chilean inspired Margarita. Hacien pineapple tequila, triple sec, agave, lime, chili, fresh coriander. Like it hot? Tell us.

Banacolada

Creamy spiced banana goodness. Banana rum, pineapple, coconut gomme, lime, half and half.

Rasmaretto Sour

Fresh raspberries bring this classic sour to a new level. Amaretto, Framboise, raspberries, lemon.

Passion Daiquiri

A delightful tangy yet sweet twist on the original. Slydog Spiced Rum, Passion fruit puree, lime, passionfruit gomme.
Fancy something else, or have any requests? Just ask. If it's possible, we'll make it happen!
Perfect Pairings
Recommended by us, these beautifully balanced combinations of quality spirits and artisanal mixers have been hand picked to make the perfect tipple
Rum
Diablesse Coconut & Hibiscus - Three cents Cherry Soda
Slydog Spiced Rum - Artisan Amalfi Lime Tonic
Salford Rum Dark Spiced - Artisan Ginger Beer
Dead Man's Fingers Coconut - Ting
Tequila & Mezcal
Hacien Pineapple Tequila - Artsian Ginger Ale
Hacien Tequila - Artisan Agave Lemon Tonic
Hacien Tequila - Artisan Smokey Cola
El Tequileno Blanco - Artisan Smokey Cola
Banhez Mezcal - Artisan Agave Lemon or Violet Blossom Tonic
Gin
Tappers Brightside - Artisan Amalfi Lime or Violet Blossom
Tappers Darkside - Artisan classic London Tonic
Tappers Pink - Artisan Pink Citrus
Sipsmith Sloe - Cranberry & Ginger Soda
Wine
The juice of the grape is the liquid quintessence of concentrated sunbeams
White
Calaveros Vino Blanco

Our house Pinot has delicious peach aromas with fresh pear and subtle floral notes. Good volume and crisp acidity makes for a long lingering finish.

Recantos de Lisboa White (Ve)

From Portugal, this bright appearing, citrus coloured wine has intense aromas of tropical fruits, with harmonious flavours on the palate and finishing with lemon zest acidity.

Entreflores Albarino

This spanish white is elegant, with a rich, well structured palate. Fresh and acidic mid-palate highlights subtle varietal character, enhanced by some fruity notes.

Cloud Rock Sauvignon

Originating from Chile, this fresh, zesty Sauvignon Blanc has wonderful aromatic aromas, hints of citrus and floral notes.
Red
Calaveros Vino Tino

Our house red is incredibly quaff-able, full of fruit cake and spice. Very elegant tannins which lengthen the liquorice and fennel characters on finish.

Lou Magret Merlot Grenache

This French Merlot is soft and rounded, offering expressive and generous red cherry and berry fruit with a hint of spice and a creamy velvety character.

Bodega Piedra Negra Organic Malbec (O) (Ve)

An Argentinian wine with a bright ruby colour, dominated with summer fruit aromas and a slight touch of black pepper. On the palate it has ripe red fruits, with soft and smooth tannins.
Rose
Calaveras Vino Rosado

Fresh generous cherry, strawberry, herb aromas, supple textures and seductive mineral length make this an ideal everyday wine.

Monterey Bay Zinfandel Rose

A delicious New Zealand Zinfandel, with a mix of watermelon and cherry notes and delectable sweetness. Swiss Commended
Fizz
House Prosecco - £5/£25
Rose Prosecco - £6/£28
Bottega Rose - £40
Champagne Castelnau Brut Classiquee - £48
Moet & Chandon - £65
Prosecco Cocktails
£7.50 or 2-4-£10
Bellini (Passionfruit/Strawberry)

A mix of fruity liqueur, fruit puree, Prosecco

Kir Royale

Creme de cassis, Prosecco

Aperol Spritz

Aperol, Prosecco, Soda top

Elderflower Spritz

St Germaine, cucumber, mint, Prosecco
Beer/Cider
Good people drink good beer, so what are you?
Draught
Psilo Bar - House Lager
Camden Hells
Camden Pale
Corona
Guinness
Appleshed Cider
Goose Island Midway IPA
Brew York - Juice Forsyth
Bottles
Blue Moon
Desperados
Bulmers
Old Mout Cider - Berries & Cherries
Old Mout Cider - Kiwi & Lime
Old Mout Cider- Berries & Cherries 0%
Cans
Beavertown - Gamma Ray
Beavertown - Neck Oil
Schofferhofer - Grapefruit
Redstripe
Brewdog - Nanny State
Brewdog - Punk IPA
Brewdog - Elvis Juice
Brew York - Lupa Lion Gluten free
Brew York - Lo-rider (0%)
Peroni 0%